The American Ivy Society
is a non-profit organization dedicated to preserving the genus Hedera through education and promotion.
AIS members are nurseryman, horticulturists, botanist, and plant enthusiasts,
professionals and non-professionals who share a passion for ivies of the world.

Please Note:
Membership Free Ivy Plants
Due to extreme weather and power failure in the
greenhouse we did not send a free ivy last year.
You will receive 2 free ivies this spring, 2015.
Join Now!
If you aren't a member yet, why not join?
The membership is only $25. (USA)
Click Here to Join or Renew Now Online!
Printable form also available.


Ivy Journals For Sale
Click Here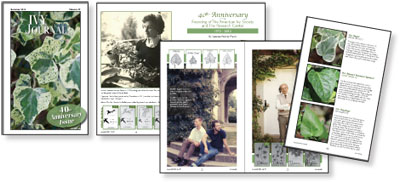 All E-mail questions are forwarded to one of your qualified members for response.
Our web site is updated regularly. Please check back often for more questions answered.