Our Sponsors


Plants and Furnishings for the Garden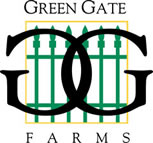 Green Gate Farms

1880 Schluersburg Rd.
Augusta, MO 63332
Phone: 636-798-2202
Wholesale Only
E-mail: sales@greengatefarms.com
Website: greengatefarms.com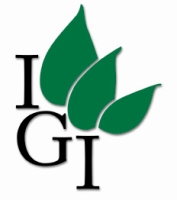 We are wholesale Ivy growers specializing in selected varieties and colors of Ivy that are suitable
for interior and exterior uses in most areas. Starter plugs and potted ivies available year-round.

Call 888-735-3517 or custserv@igimarketing.com
Retail

100 hardy ivy varieties acclimated to Z6. 1-2 yr. rooted plants in 2.5" or 4" pots.

Home of the original H.h. 'Galaxie'.

Complete nursery catalog of field grown perennials, roses, herbs, wildflowers, shrubs and trees.
2410 Lanes Mill Rd.
Hamilton (McGonigle), OH 45013
513-894-0022
marysplantfarm.com


---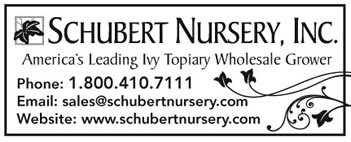 As the premiere grower of Ivy Topiary in the United States,
Schubert Nursery specializes in providing the best selection of high quality
Topiary and friendly, caring and efficient service customized to each of our customer's needs.
And all this comes with extremely competitive pricing.
Schubert Nursery, Inc.
26889 Encinal Road Salinas, CA 93908
Phone: (800) 410.7111 Fax: (888) 883.5040
Email: sales@schubertnursery.com
Website: www.schubertnursery.com

---