The American Ivy Society is a non-profit organization dedicated to preserving the genus Hedera through education and promotion. AIS members are nurseryman, horticulturists, botanist, and plant enthusiasts, professionals and non-professionals who share a passion for ivies of the world.
SAVE THE DATE
2014 Annapolis, MD
Sunday, August 24th to the 28th
(leaving on the morning of the 29th.)

For those who haven't been there, Annapolis is one of the most charming little cities in the U.S. with its cobblestone streets, Colonial architecture and beautiful historic gardens. It's a journey back to the 18th century.

We have been able to get reservations at the Historic Inns - but we must give them an idea of how many rooms we will need as soon as possible in order to hold the rooms.

Could you please contact us for an idea of how many would like to join us -
and if they would like a single or double room. No money is needed at this time -
just an indication of interest.

We don't have firm prices yet, but believe it will be between $1000 - $1200 pp including Hotel, Food, Entry fees, Transportation within Annapolis and the surrounding area, Boat trip on the Chesapeake Bay etc..
Drop us a email here.

RSVP needed ASAP,
no money needed now.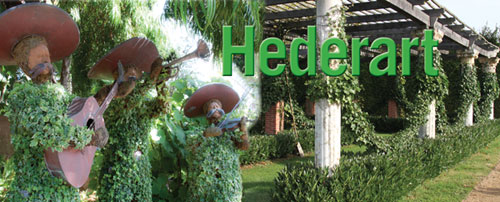 2014 Philadelphia Flower Show
"ARTiculture"
March 1 to 9, 2014

WE NEED YOUR HELP
Volunteers needed for the 2014 Philadelphia Flower Show

We need help with set up the week before the show. Come see how the world's largest indoor flower show is put together. We need members or friends to man the display the week of the show, and we need help to take down the display the last night.

We are also looking for Judges for the American Ivy Society's Ribbon awarded to the best ivy from the four ivy classes in the show.
All volunteers will receive a free ticket to the show.

For Information contact Russell Windle, email hedera@att.net

Special Thank you to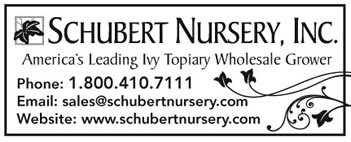 for all many of the ivy baskets and
table top topiaries for the display!




Join Now!
If you aren't a member yet, why not join?
The membership is only $25. (USA)
Click Here to Join or Renew Now Online!
Printable form also available.

You'll receive a gift plant each year when you are a member of the
American Ivy Society

You also receive the Ivy Journal. This 40th anniversary issue has descriptions and color photos of the Heart shaped ivies in the
Pierot Classification system.


Ivy Journals For Sale
Click Here
2013 Just Added!
40th Anniversary Special issue!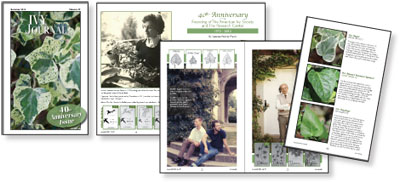 All E-mail questions are forwarded to one of your qualified members for response.
Our web site is updated regularly. Please check back often for more questions answered.